Vertical Hanging Bike Racks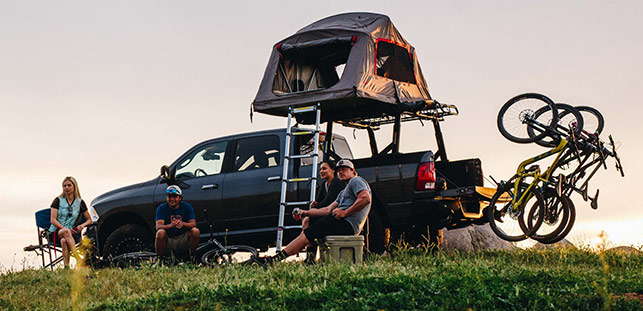 Ride into the wild with Yakima's "HangOver" Vertical Hanging bike rack!
Stop worrying about hitting a bump in the road causing your bike rack to fall off or your bikes causing damage to your vehicle. Yakima's "HangOver" two adjustable mast angles keep your bike from causing damage to your car, truck or SUV.
These outstanding bike racks are built to secure whatever type of bicycle you own even when you are travelling on the harshest roads or down the middle of a gravel route. Go ahead, follow your own path knowing your bike and transportation will not bonk together along the way.
A trunk rack can be installed or removed whenever you need. A small, flexible rack is easy to store away in a convenient location until you need it. This rack type comes with two posts on top and one on for the seat of your bike so you can securely position it for your road trip. Keep in mind a trunk bike rack holds 2-3 bikes maximum.
For a less traditional hitch rack option, you can choose our vertical hanging bike rack.
VERTICAL "HANGOVER" HANGING BIKE RACK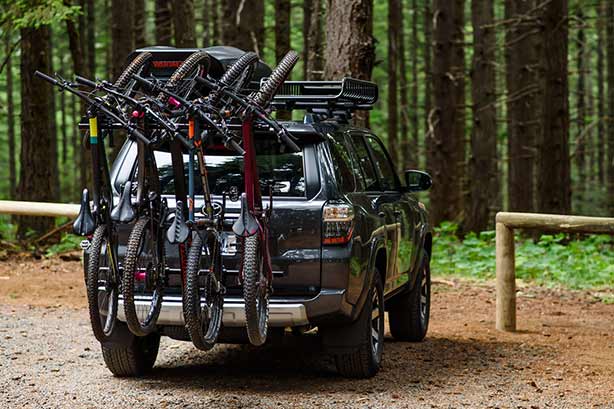 Are you going on a biking trip with more than a couple of friends? Yakima™ "HangOver" Vertical Hanging bike rack is one of our stand-out product and the only vertical bike rack to safely haul up to 6 bicycles. It has been fully tested by adventurers like you for an unwavering, exciting ride.
Do you find it a pain in the neck to put your rack on the back of your vehicle? This special style of bike rack allows for a simple transition to attach or remove it from your mode of transportation. How? The easily operable tilt mechanism allows you to smoothly glide the rack into a position most comfortable for you.
At the Hitch Shop, we can get you to where you need to be with plenty of hitches for your every adventure.
Do you often take your bike to the city but find it difficult to maneuver into a parking space because the rack on the back of your car takes up room? A mountable roof rack might be the answer for parking in a tight spot. Roof-mounted racks allow you to stay clear of space issues and are less likely to be nicked by another car close to you.
There are two types of mountable roof racks available for your convenience:
Fork Mount
With a fork mount, you have to take the front wheel off your bike before mounting it. This makes it easier to get your bike on the roof.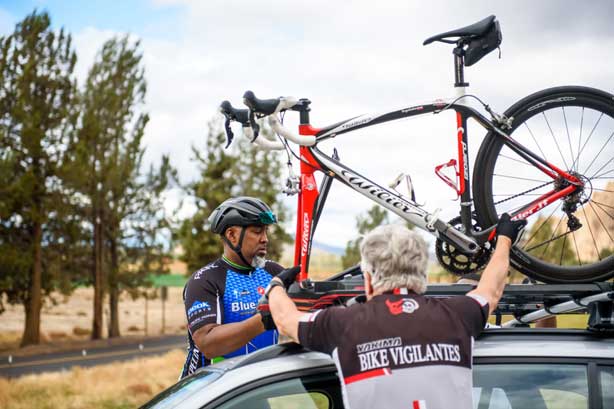 Wheel on Bike Mounts
A Wheel on bike mount means you can put the entire bike on the roof, fully assembled. You don't have to worry about taking the front wheel of your bike off.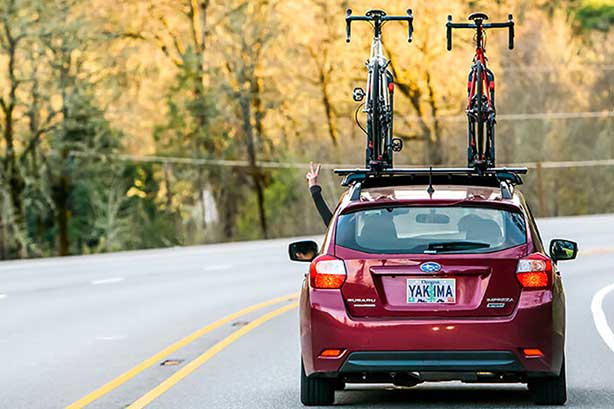 Do you have a hitch receiver? You may want a hitch rack for your bicycle and if this is the case there are two types you can pick from:
Tray Style
The tray style has a tilt feature allowing you to access your tailgate with ease when the bikes are loaded. Bikes are spaced about 12 inches apart to prevent each bike from interfering with the other, making it great for a smooth ride.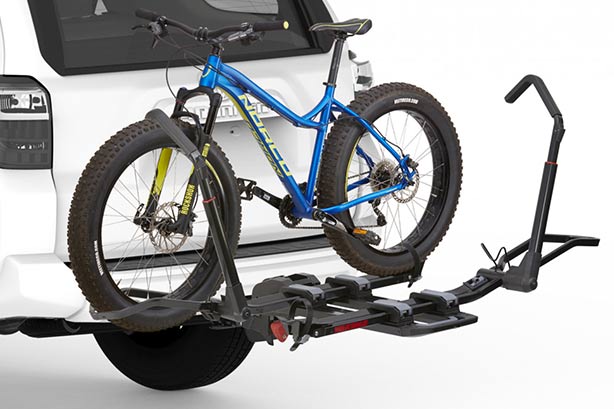 Hanging/Tilt Style
This style of bike rack has tilting capabilities that allow you to unload groceries or put items in your trunk when needed without having to remove the rack.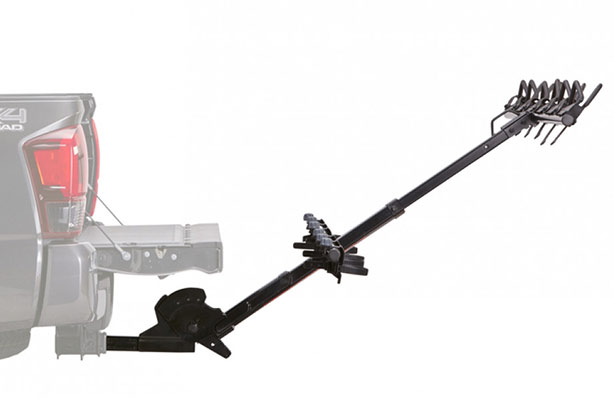 Frequently Asked Questions
A vertical bike rack is installed on a hitch, and the bikes are hung vertically, either by the fork of the bike or the handlebars.
When choosing the ideal height for a bike rack, the most important thing is that the bike does not come into contact with the road. You want it high enough to clear steep driveways, hills, and speedbumps.
Think about utility: is the rack appropriate to your needs and lifestyle? Also, consider ease of use. Can you easily fit it into a vehicle? And, of course, safety. Does it securely hold your bike(s) and lock them to the rack and car? 
When choosing a bike rack for your vehicle, consider how many bikes you plan to carry and if you're looking to carry e-bikes or carbon-framed bikes. Calgary Hitch Shop can help you choose the right bike rack for your specific needs and vehicle. 
Get the Best Deals on Trailer Hitches and More, Straight to Your Inbox!