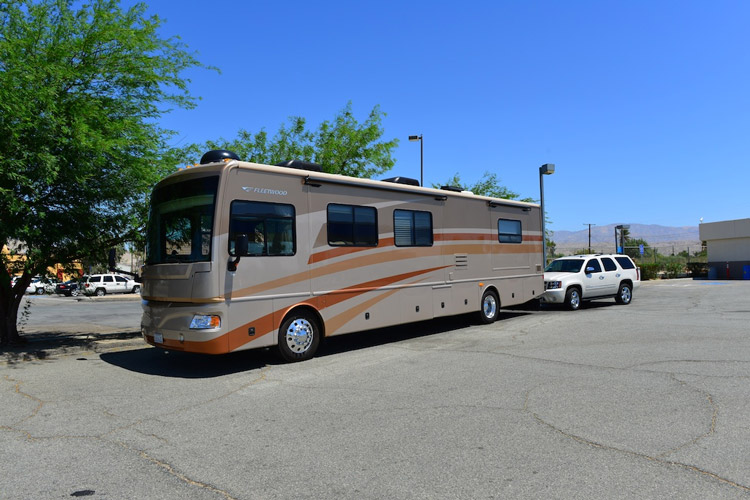 Your source for RV Towing / Flat Towing Solutions
The tow bar assembly transports vehicles — standard or automatic transmission — with all four wheels touching the ground. In general, tow bars are the easiest to use and the least expensive of the flat towing systems. Most tow bars are rated in classes from 5000 pounds to 10,000 pounds, sufficient to handle most any towed vehicle.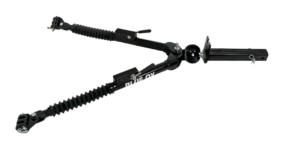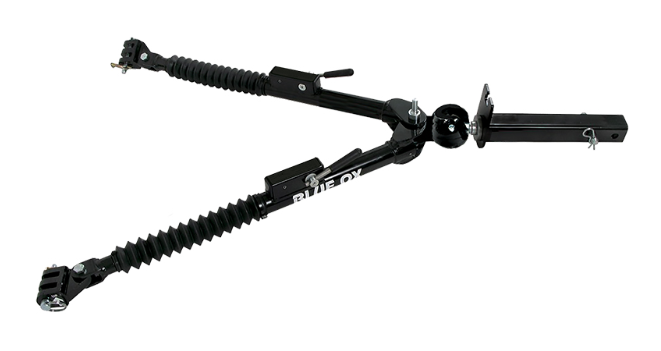 The system usually consists of two elements: the tow bar (or wishbone portion) and the base plate, which attaches to the chassis of the towed vehicle. The base plate is custom-made for a particular vehicle and provides a safe point of attachment for the tow bar.
Many manufacturers offer motorhome-mounted tow bars that remain attached to the motorhome and connect to the towed vehicle only when the car is being pulled. This type offers the advantage of a built-in storage location and a cleaner-looking towed vehicle. Folding models that can be flipped and stowed horizontally or vertically on the base plate of the towed vehicle are also available.
Towing a vehicle behind your RV has pros and cons and it is ultimately up to you to determine whether towing behind or driving the vehicle when transporting in your RV is best for you. Nonetheless, having your vehicle is necessary and convenient for most families when on the road. At the Hitch Shop, our job is to make your tow job as efficient and effortless as possible
The first thing to consider when deciding what/how to tow is whether or not your vehicle is equipped with flat towing system. Not all vehicles, models, or manufacturers are designed to be flat towed. Luckily, if your vehicle is not equipped to flat tow, some vehicles can be modified with just a few accessories. Once your vehicle is ready to be towed your next investment is in the towing system. We recommend flat towing with a tow bar as it is an easy and efficient system to use, after installation you can easily connect and disconnect your car to the braking system of the RV.
At the Hitch Shop, we have everything from the tow bar, base plates, hitches and wiring to securely set up your RV flat towing system. Towing your vehicle behind your RV has never been easier with our safe, secure, and practical accessories.
Come in today to consult with our professionals about the best RV Towing system for your adventure today.
Get the Best Deals on Trailer Hitches and More, Straight to Your Inbox!