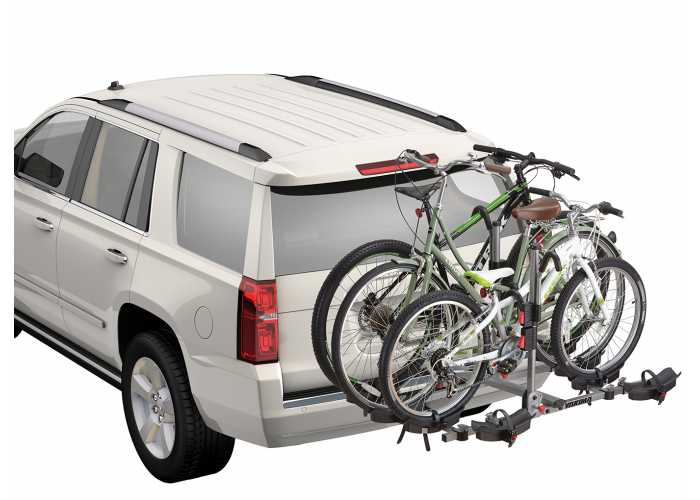 Transport Your Bikes Easily with the Hitch Shop
We Have And Install Hitch & Bike Rack Combos To Save You Time And Money.
If you're looking to transport your bicycle to rugged trails, or just around town we have just what you need. Let the Hitch Shop set you on the road to recreation with quality brands like Yakima®, Thule, and Swagman.
We Install Yakima & Thule Bike Racks.
Our expert technicians will gladly install your Yakima or Thule bike rack quickly. Call the Hitch Shop today and tell us what you need and we will be sure to help!
At the Hitch Shop, we are your one-stop-shop to have the latest Yakima rack installed on your vehicle. We carry every type of bike rack and can set up and show you how to use it. We sell Yakima, Thule, Swagman, and Prorack as well as many other brands. Our team can make sure you have the right hitch and rack combination to ensure safe travels.
Choosing the proper bike rack can be a daunting task for some because there are a number of highly efficient options available and new accessories coming to the market regularly. Generally, the most common forms of bike accessory systems are hitch racks and roof racks; they are tried, true, and easy to use on most makes and models of vehicles.
Hitch Racks
Hitch bike racks are easy to install and remove, and require limited bike lifting and adjusting. Hitch racks come in a wide variety of options including frame contact, zero frame contact, tilt, and swing styles. Different bikes will be suitable for different racks so it is best to consult with an expert on the best rack for your bike.
Roof Racks
Roof-mounted bike racks come in two general variations called the "wheel on" and the "fork mount". The "wheel on" rack secures the bike on both the front and rear wheel whereas the "fork mount" requires you to remove the front wheel and secure the bike from the rear wheel and between a fork. One of the major benefits of opting for a roof rack is it won't block your rearview mirror, so you can set it and forget it when you travel out on the road. A roof rack, however, does require lifting to set the bikes into place.
Thule vs Yakima will always be in question and at the Calgary Hitch Shop, we truly appreciate the features of both brands. When it comes to finding the proper rack it really comes down to preference and our experts would be happy to help find the perfect rack for you.
Hitch Bike Rack – Thule T2 Pro XTR 2 2″ and 1.25″ – Back In Stock!
The heavy-duty, award-winning Thule T2 Pro is now even easier to install, remove and store thanks to the integrated wheels.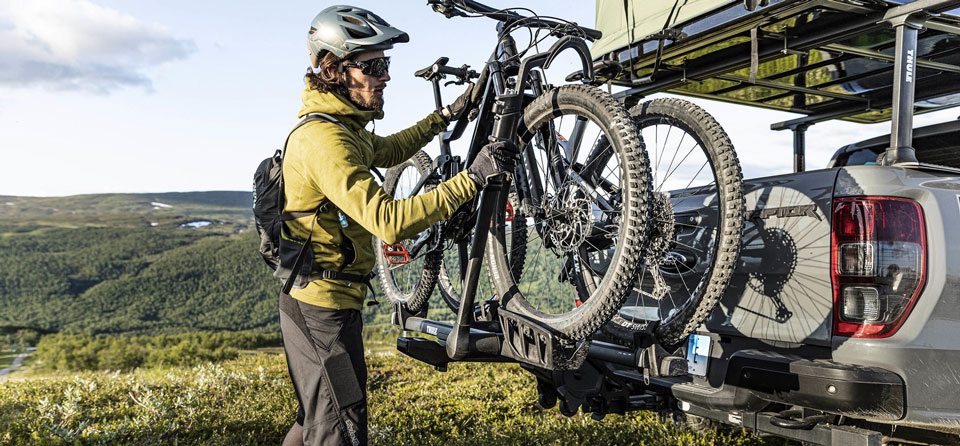 Features:
Versatile design fits nearly all styles of bikes up to 60 lbs with zero frame contact
AutoAttach system makes installation and removal simple and tool-free
Integrated wheels help to maneuver the rack on and off the vehicle
The HitchSwitch lever allows you to tilt the rack down for rear vehicle access or tilt it up when not in use
Fits 20 – 29″ wheels and up to 5″ tires without adapters making it ideal for carbon frames, mountain, downhill, or fat bikes
Integrated cable lock and lock knob locks bikes to the rack and secures the rack to the receiver
Generous spacing between bike mounts with the ability to adjust side to side to eliminate bike interference
Carries up to 4 bikes with Thule T2 Pro XT Add-On (sold separately, 9036XTB, 2″ receiver only)
The wait is over, Thule EasyFold XT 2 Hitch Bike Rack is back in stock!
The fully foldable, compact, and easy-to-use hitch-mounted bike rack for all types of bikes (Designed for e-bikes easy loading).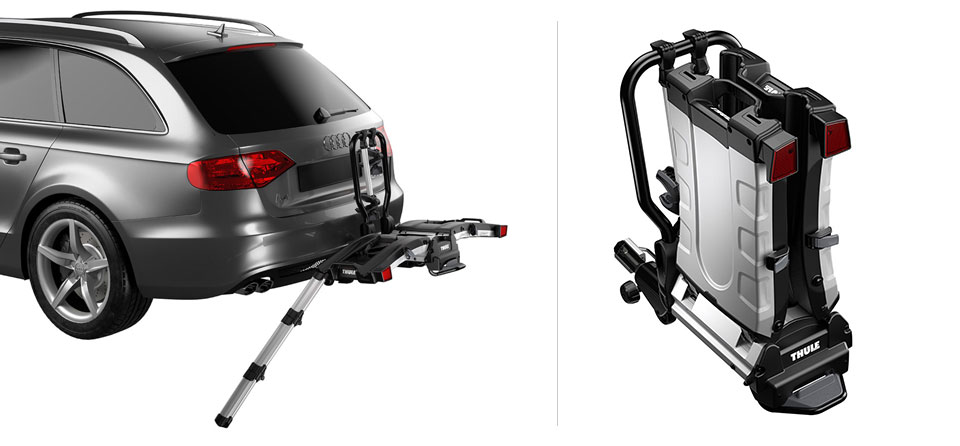 The Thule EasyFold XT is a highly sought-after hitch-mounted bike rack with some very unique features. The system is compact, fully foldable, and works for all types of bikes, including heavyweight E-bikes. The system has a weight capacity of 65lbs to address the challenges of transporting heavy rides. The foldable loading ramp conveniently allows you to roll bikes into place. Mount your bikes easily with the detachable arms before adjusting the bike rack and securely closing the tightening handle.
The EasyFold XT comes pre-assembled for easy installation with no tools required and works for both 2″ and 1.25″ hitch receivers. A foot pedal tilts the rack forward to allow for easy rear vehicle access, even with bikes mounted. You won't need to worry about the risk of wheels scraping against your car's exterior with large wheels, as there is a good distance between the wheel holders and your vehicle. Although it can handle heavy-duty bikes, the Thule EasyFold XT is lightweight with a clever design that collapses for easy storage.
Features:
Fully foldable for convenient mounting, handling and storage
High load capacity enabling transport of e-bikes and heavy mountain bikes
Easy mounting of bikes through detachable bike arms with lockable Thule AcuTight torque limiter knobs that click when optimal torque is reached
Large distance between wheel holders enabling transport of sturdy bikes with large wheel bases
Wheel straps with adjustable pump buckles for fastening wheels. (Optional XXL Wheel Strap kit to fit longer wheelbases and tires up to 4.7")
Easy trunk access even with bikes mounted, thanks to smart foot pedal tilt
Ergonomic transport of the bike rack thanks to the integrated transport wheels and carrying handle
Foldable bike loading ramp integrates into rack for convenient storage (included)
Lock your bikes to the bike rack and your bike rack to the receiver (locks included)
Frequently Asked Questions
Get the Best Deals on Trailer Hitches and More, Straight to Your Inbox!