The Hitch Shop stocks 5th wheel Hitches from all the major manufacturers.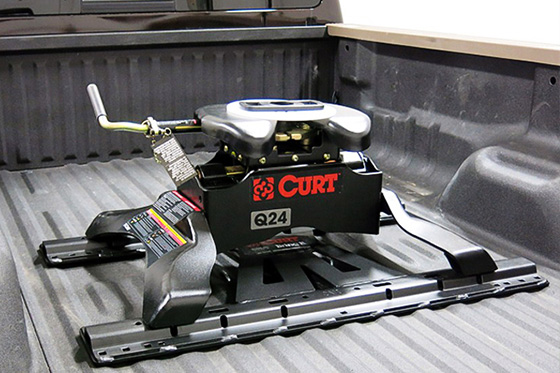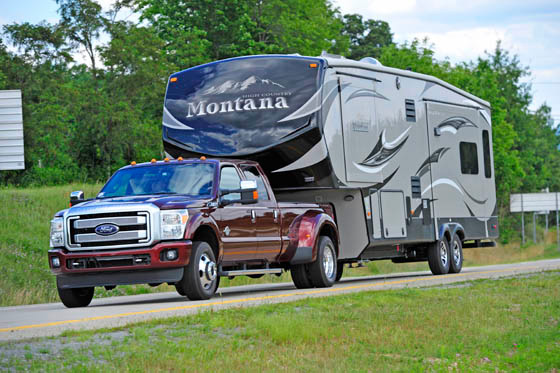 We carry fifth wheel hitches to accommodate any size trailer and can help you choose the right hitch for your towing needs. Whether you need your existing hitch installed in a new truck or a new hitch we can supply and install it right away. We have products that will install both into OEM underfed systems and into industry-standard rails. There are lots of choices and we can help you choose the one that is best for you.
What is a fifth wheel hitch?
A fifth wheel hitch is a flat plate hitch that is located in the bed of a pickup truck. The plate is large, flat, and typically has a horseshoe shape to it. There are metal rails that run under the hitch that attach the hitch to the bed of the truck, this system makes the hitch remarkably strong and sturdy. The hitch then connects to the trailer by a pin called the "kingpin" which attaches on to the hitch plate. The kingpin promotes security but flexibility, offering the vehicle and trailer secure pivoting capabilities when turning. The flat plate of the hitch and the flat plate of the trailer will slide against one another when in motion so it is important to maintain proper lubrication between the two plates.
A fifth wheel hitch ensures a smoother ride while towing than its counterpart the gooseneck hitch. The hitch will have less sway and a generally quieter ride because of the engineering of the plates and the kingpin. Just like the gooseneck hitch, the fifth wheel hitch can carry a heavy load with enhanced stability and efficiency. Please note that these types of hitches are typically used for fifth-wheel trailers.
Benefits of choosing a fifth-wheel trailer hitch:
One of the main advantages of choosing a fifth-wheel hitch is it makes it easier to maneuver. Due to the hitch's placement, a better turning radius is provided, making trailer or RV maneuverability easier when coming around corners. Improved stability is another benefit of a fifth-wheel trailer hitch. With the trailer fastened in your truck bed, you gain greater stability than standard ball hitches.
Other fifth-wheel trailer hitch benefits include:
1. Smooth and stable towing capabilities
2. Easy hookup
3. Safe and flexible turning radius
4. Minimal sway
5. Balanced weight distribution
6. Fuel efficient
Frequently Asked Questions
If there is rust in the corners of your 5th wheel hitch, it's not going to cause structural problems. However, it is important to keep your hitch clean and maintained. Be sure to grease the jaw and the slider as needed. 
A 5th wheel hitch needs to be mounted directly to the bed of the truck, and a bed rug can be used if it's cut out around the 5th wheel rails. 
Get the Best Deals on Trailer Hitches and More, Straight to Your Inbox!