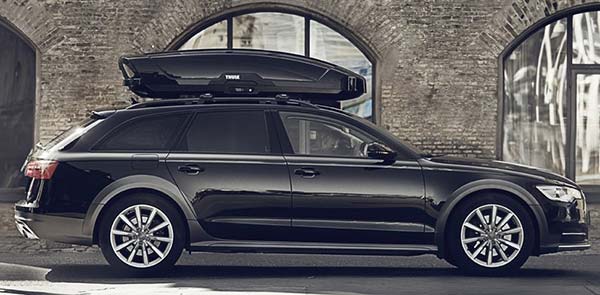 Traveling Just Got Easier with a Ski and Cargo Box
You've planned a weekend trip with your friends but with six passengers and your luggage, it will be a tight fit. And, your trunk is cluttered enough. An investment in a cargo box will expand your space needs whether you booked a last-minute vacation or you've planned ahead.
All our cargo and ski boxes are easy to install and always in stock. As a cargo box owner, you'll differ from what you'll carry compared to your neighbor or friend. Luckily, you can fit anything in there; from a stroller and skis to your bulky overpacked luggage.
All shapes and sizes
We're happy to offer our customers a large selection of cargo box sizes and shapes at our two convenient Calgary locations. With a fully stocked shop, you'll avoid online orders and long delivery times. You'll get one-on-one service and great products to boot!
Maybe you need a small box that fits on the roof of your Prius or a wide box that sits nicely on top of a Suburban. We can even find the right size for your car to setup a box that sits snug beside your bike rack or canoe.
Bring extra friends and whatever gear you want—the cargo box makes your travels that much easier. Whatever your needs and model of car, we'll find the cargo box that's right for you.
We carry Yakima & Thule Products
Yakima
The Hitch Shop is proud to say it's the only retailer in Calgary that carries the whole line of Yakima products. Imagine the excitement as you load up your skis, luggage and your travel goodies all in one place! Besides the ever popular Yakima ski and cargo boxes, you can always pick from our other popular brands, including Thule and Swagman.
Thule
Thule cargo boxes are versatile, sleek and easy to use. Convenience reigns as you'll have the ability to open your cargo box from both the driver and the passenger side.
Whatever brand or size or style you want, your cargo box purchase carries a lifetime warranty, knowledgeable staff to answer your questions, and a roof top box you'll want to take everywhere you go.
Time to plan your next adventure!
FREE INSTALLATION WITH PURCHASE
Thule Ski/Cargo Boxes Gallery
Frequently Asked Questions
Get the Best Deals on Trailer Hitches and More, Straight to Your Inbox!