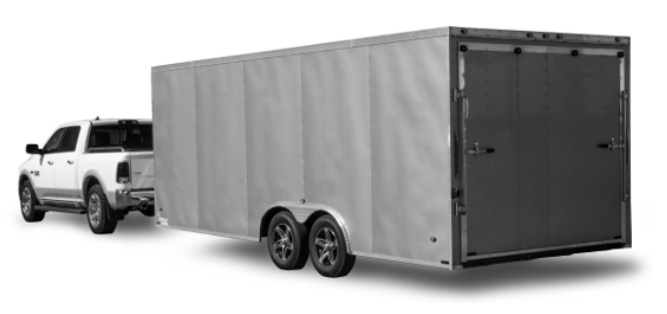 Find the perfect trailer hitch at the Hitch Shop in Calgary
The Calgary Hitch Shop is not only a premiere hitch shop in Calgary, but it also has the largest hitch inventory of any installer in Canada. If there is a hitch made for your vehicle – we have it! If we need to custom fabricate it we can do that too. From small compact car to large heavy-duty trucks, we have your hitch in stock and can install it today.
Every trailer requires a unique hitch that is conducive to the load size and the weight of the transfer vehicle. Ensuring that you have the proper hitch is essential to safe and efficient towing. Generally, trailer hitches can be sub-categorized into two major categories, these include fixed tongue hitches and receiver style hitches.
What to Consider When Looking for a Trailer Hitch in Calgary
When looking for a new trailer hitch in Calgary, the first two things you must consider are the maximum torque weight and the maximum trailer weight, and both of these weights must be measured with the weight of the trailer hitch in mind. More specifically, the maximum strength of the vehicle and the physical strength of the hitch structure must be considered when determining what kind of hitch is best for your towing job.
For example, a smaller vehicle may be fitted with a hitch that has a 100-pound tongue weight and a 1000-pound gross trailer weight, whereas a larger vehicle could be fitted with the same hitch but be rated for 200-pound tongue weight and 2000-pound gross trailer weight. The torque weight limit will then also be determined and adjusted, according to the distribution weight of the tow load.
Fixed Tongue Trailer Hitches in Calgary
Fixed tongue trailer hitches are a hitch that has been permanently installed and remains in place on a vehicle, regardless of whether the vehicle is towing or not. A fixed tongue hitch is practical for someone who is towing regularly and is seeking the convenience of having the hitch readily available. Nonetheless, fixed tongue hitches are decreasing in popularity as they stick out and can be dangerous to pedestrians and other vehicles when not in use. Fixed tongue hitches are known as a "weight carrying" hitch.
Receiver Style Trailer Hitches in Calgary
Receiver style trailer hitches are a ball mount hitch that can be installed or removed with ease, after each use. This is the most widely utilized hitch today because it is convenient and easy to work with. Receiver style hitches are utilized for everything from bike racks to trailers. Receiver style hitches come in five different categories, these include: Class I, II, III, IV, and V. Class I and II receiver-style hitches are weight carrying hitches only, whereas Class III, IV, and V can be either weight carrying or weight distributing hitches. Receiver style hitches can be installed on either the front or back of a vehicle.
If you're curious to learn more about trailer hitches, or you simply have additional questions that you'd like answers to, be sure to contact us today to speak with an expert for more information.
Frequently Asked Questions
We Also Supply and Install Front Mount Hitches
Get the Best Deals on Trailer Hitches and More, Straight to Your Inbox!