OEM Puck System 5th Wheel Hitches
Many trucks today come with a built-in mounting platform for 5th wheel or gooseneck towing, called a puck system. The Calgary Hitch Shop offers several products that use this puck system, allowing for faster installation and removal and more streamlined towing. 5th wheel kits are available for Ford, GM, Ram, and Nissan Trucks. These kits come with puck system legs that are designed to fit either long or short bed trucks. Kits are available starting at a weight capacity of 16,000 LBS – up to 25 000 LBS.
The benefit of an OEM Puck System is they provide a solid mounting platform for a fifth wheel hitch, instantly. The legs and slider system makes the installation easy and efficient, while still maintaining the integrity of a fifth wheels necessary towing capabilities. The OEM Puck System allows the fifth wheel hitch to be installed easily into the under-bed mounting points, then with a quarter turn, the legs or slider can be efficiently installed or removed. This provides a solid mounting platform then for a fifth-wheel hitch.
The most unique part of the OEM puck system is that it can be installed and removed with ease, unlike a traditional fifth wheel hitch. This system is recognized for its straightforward and easy to follow the installation process. This effortless installation allows you to utilize the bed of your pickup truck for multiple purposes instead of just having to house the 5th wheel hitch at all times.
Benefits of the OEM Puck System
1. There are no mounting rails! You use your truck for both storing and towing
2. No drilling or welding into the bed of the truck/*
3. Efficient front to back and side to side pivoting engineering
4. Quiet towing experience
5. Easy install and removal
6. Sturdy and strong towing experience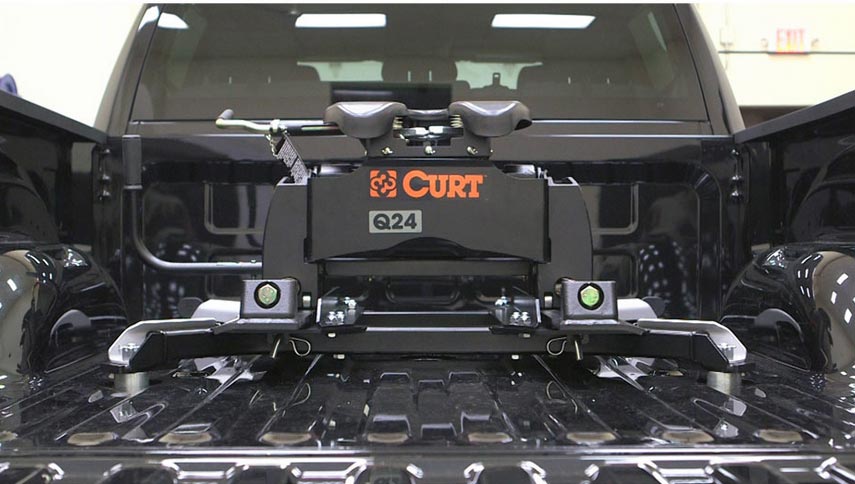 Frequently Asked Questions