Aries truck accessories
We've got a wide selection of the latest truck accessories from Aries.  Get the style, safety and comfort you want at unbeatable prices. Call or come in today.
Tough Bull Bars
Protect your truck with Bull Bars, select your options and increase durability.
ARIES bull bars pack a big attitude and a mean left hook into your truck, giving you that aggressive aftermarket look you demand. Built with heavy-duty steel tube construction, our bull bars are designed to withstand the rugged environment of a hardworking lifestyle, from the cattle rancher on the open range to the industrial man of the asphalt jungle. ARIES bull bars feature a vehicle-specific design and an easy, no-drill application for quick installation on your truck or SUV. They also come with pre-drilled auxiliary light holes along the crossbar and a removable skid plate for easy customization.
Vehicle Specific Fit
Not only are ARIES bull bars are made with heavy-wall tubing to provide reliable strength on the front end of your truck, but each one is also made to be vehicle-specific. This means that the bull bar has unique bends and mounting brackets to fit the profile of your vehicle. It not only contours to your truck's front end and accents its unique features, but it also installs faster and more securely. The ARIES bull bar uses pre-existing factory holes on the vehicle to eliminate the need for drilling, cut down on installation time and add overall stability.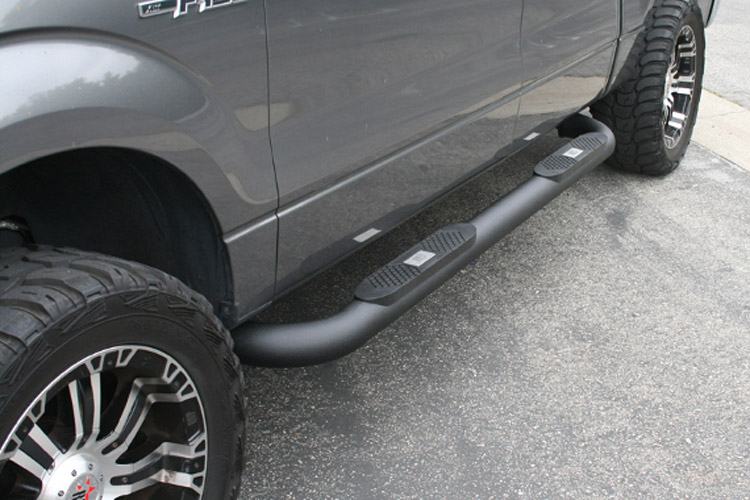 Aries Side Bars
Let the Hitch Shop Enhance Your Truck and Your Safety. When you start and end your day turning the ignition of your truck, unreliable footing is not an option. You need step bars that can take a beating and provide comfortable footing, all while looking good mounted on your truck. ARIES side bars are sleek, strong and custom-fitted to be a highly functional extension of your ride. For each make and model, they are made vehicle-specific, providing a comfortable step and easier installation. They come with raised step pads, blended end caps for a finished look and are made in two finish options, including black powder coat carbon steel and polished stainless steel. All ARIES side bars are sold in pairs and come with carbon steel mounting brackets for a complete installation.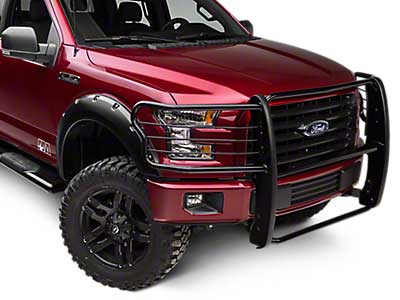 Aries Grille Guards Calgary
For both trucks and SUVs, the ARIES grille guard offers added protection, a vehicle-specific fit and easy customization. It is built with a one-piece, heavy-duty 1 1/2″ diameter steel tube construction to provide a safer, tougher-looking ride. Each grille guard is also made for a specific vehicle make and model, allowing it to contour to the front end and provide a seamless aftermarket look. ARIES grille guards feature pre-drilled auxiliary light holes to accept fog lights, off-road lights or other aftermarket lighting options, and they come with removable headlight cages for further customization. The ARIES grille guard is available in polished stainless steel or carbon steel with a semi-gloss black powder coat finish and comes with a warranty to ensure quality in materials and craftsmanship.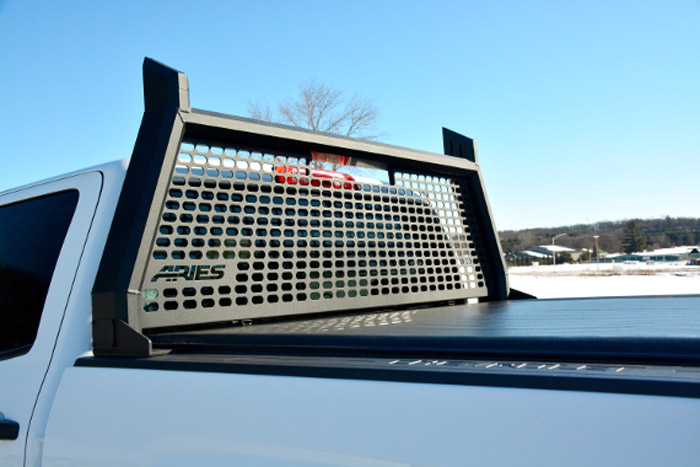 Headache Racks
Protect your cab and rear-window with an ARIES headache rack. For the heavy-duty hauler and hardworking trail blazer alike, a headache rack is a must-have truck accessory. It doesn't take much for a 2×4, steel pipe or other loose cargo to put a good-size crack in the rear window of your truck cab, especially when you stick to the off-road trail more than the paved road. ARIES headache racks offer hardy construction, a quality finish and a universal design to make sure your truck is ready for the trail ahead.
Get the Best Deals on Trailer Hitches, Truck Accessories and More… Straight to Your Inbox!