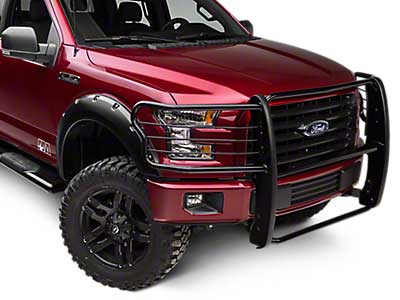 Aries Grille Guards Calgary
For both trucks and SUVs, the ARIES grille guard offers added protection, a vehicle-specific fit and easy customization. It is built with a one-piece, heavy-duty 1 1/2″ diameter steel tube construction to provide a safer, tougher-looking ride. Each grille guard is also made for a specific vehicle make and model, allowing it to contour to the front end and provide a seamless aftermarket look. ARIES grille guards feature pre-drilled auxiliary light holes to accept fog lights, off-road lights or other aftermarket lighting options, and they come with removable headlight cages for further customization. The ARIES grille guard is available in polished stainless steel or carbon steel with a semi-gloss black powder coat finish and comes with a warranty to ensure quality in materials and craftsmanship.
We'll Install
Our expert technicians will gladly install your grille guards quickly and safely. Call the Hitch Shop today and tell us what you need and we will be sure to help!
Get the Best Deals on Hitches and More, Straight to Your Inbox!